Total immersion in the lives of our ancestors
The Aurignacian Gallery is the Grotte Chauvet 2's discovery centre, an interactive museum to fully experience a key period of humanity: the first settlement of Homo sapiens in Europe. This civilisation brought about the birth of painting, sculpture, jewellery and music more than 40,000 years ago.
The Aurignacian Gallery can be explored before or after visiting the cave, to gain a better understanding of this Palaeolithic era.
The visit begins with the projection room, where a spectacular film immerses the visitor in a scene from the Aurignacian period. In the backdrop, we can observe the Pont d'Arc, the animals, the cave and its paintings.
At the end of the screening, the double doors below the screen open up onto an immersive pathway through now-extinct prehistoric animals, which then merges into a landscape of steppe grasslands. This wide range of fauna represents the bestiary of the Aurignacians. The voyage of discovery is completed with scenes of everyday life and of decoration of a rock wall.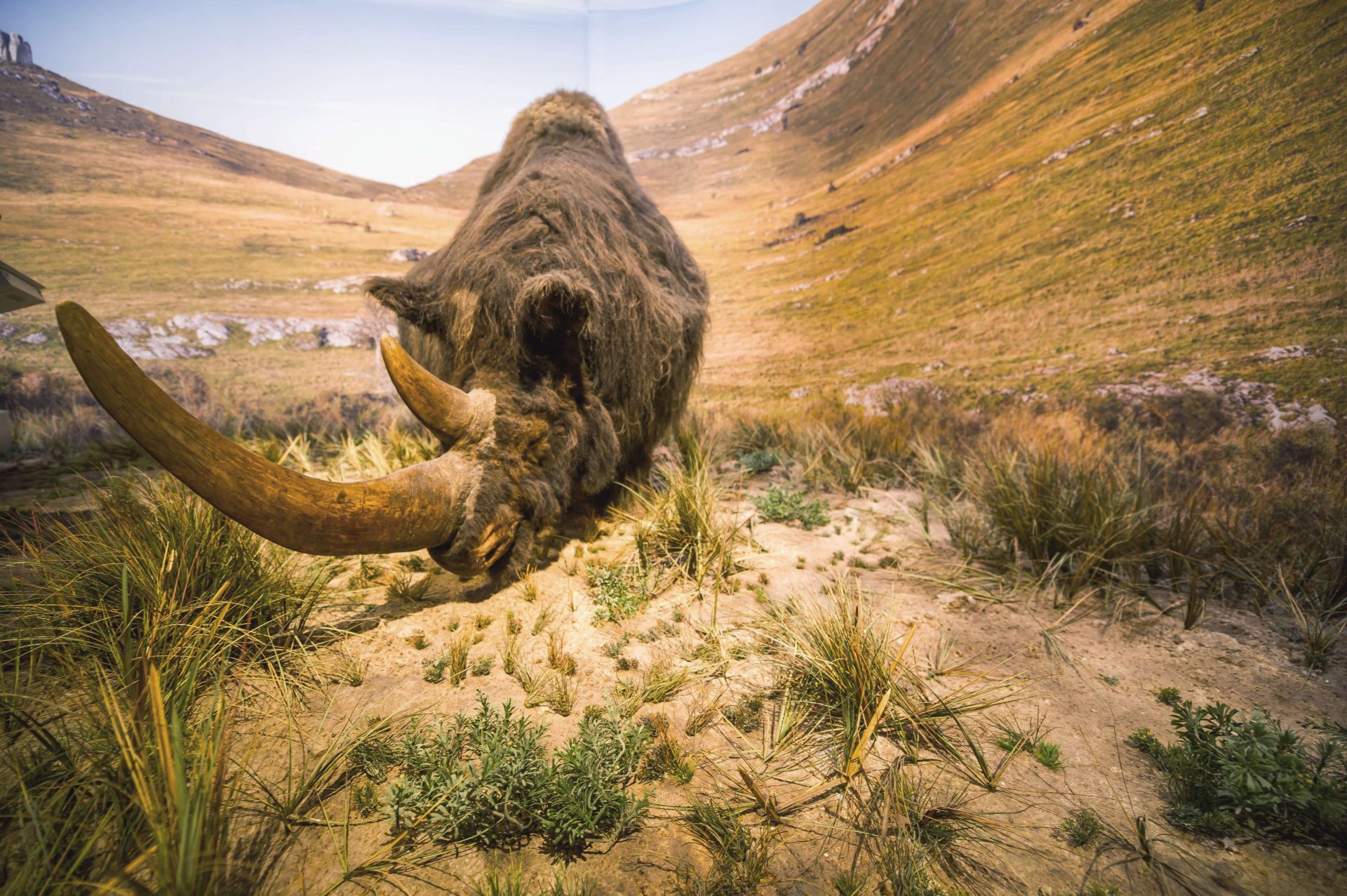 The Aurignacian Gallery is centred around three major themes :
Ardèche 36 000 years ago
This section explores the geological transformations that Ardèche underwent when the earth was in an ice age, and gives us a chance to see our ancestors' landscapes as well as the rich and remarkable prehistoric fauna. Life-size cave lions and bears, woolly mammoths and rhinoceros, megaloceros and bison are all represented in dioramas.
Our prehistoric ancestors
This part provides an overview of what we know about the Aurignacians who painted these cave walls: who were they? Where did they come from? How did they live? How was their society structured?
Five themed displays (anatomy, everyday tools, portable art, and music) contain key reproductions from the era. These include statuettes from the Swabian Jura mountains in Germany (the Lion-man of Hohlenstein-Stadel, the Venuses of Willendorf and Hohle-Fels, felines, mammoths and the horses of Vogelherd).
On a touch-screen table, visitors can explore and learn more about a group of Aurignacians and the activities that were fundamental to their lives, within a dynamic reconstruction of their habitat.
Cave art : The origins of art
The Grotte Chauvet 2 is one of the few places in the world where visitors can learn about our Aurignacian ancestors' artistic practices. We analyse not only their working conditions (tools, pictorial techniques, themes, etc.) but also the fundamental question of meaning, thanks in large part to interactive interviews with Jean Clottes, Carole Fritz and Bernard Gély.
The intention of the analysis is both specific to the Chauvet cave and to the wider context of original art, as demonstrated by the interactive map to locate the artworks in the cave. A mosaic of images gives us key insights into the broader framework of cave art in Europe, from 40,000 to 10,000 years ago. It consists of around 40 depictions of animals, humans, and symbols found in other European caves.
Key figures
m² of replica natural scenery
giant 600 m² panorama made from 1500 photos
cinema screening room with 65 seats
interviews with scientists on touch-screens
large interactive screens
archaeological prototypes (presented and explained in displays)
reconstructions of humans (including one child)
life-size reconstructions of animals